Our work
Our objective is to provide support to help build capability, improve lives and reduce poverty. We use an integrated model focusing on Education, Health and Livelihoods. These are the three areas that the villagers themselves describe as their key needs for help.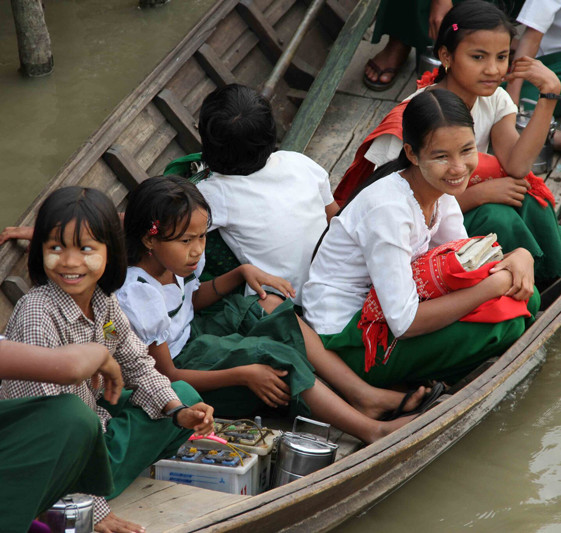 Our model
At the core, the villagers' problems are caused by a combination of poverty and a lack of access to public services.
Our integrated model focuses on the three areas of Education, Health, and Livelihoods, where the communities have greatest need. Each area is fundamental in its own right. When combined this approach can multiply the benefits for the communities.
We believe in geographical focus in order to really get to know the issues and to make a difference. As a smaller charity, it also helps us be more efficient.
In the Delta region, children lack access to good schools. About 70% of rural children never progress beyond primary school. Fewer than 10% attend high school. By building, staffing and maintaining schools we create a continuous learning journey from primary school to further education and beyond. Read more.
There is an absence of primary health care in the Delta villages, and an inability to travel to seek help in the major towns, without great cost and time. By building skills, knowledge and resources we can help improve villagers access to basic healthcare services within their communities. Read more.
Most people in the Delta region survive in great poverty, earning about $2 a day* as labourers in the paddy fields and through fishing, and are vulnerable to weather extremes. We aim to help people with the key necessities when they need it most, from emergency aid to developing livelihood schemes to supplement incomes and helps improve standards of living. Read more.
Videos
Take 5 minutes to watch the videos and learn about the opportunities HTBD's Continuous Education Journey creates, and the need for and value of the Community Health programme.
HTBD's Continuous Education Journey
HTBD's Backpack Medics
Donate to support our programmes
Learn more about our programmes
Share our results with the Facebook and email icons above. Join our supporters – sign up for updates in the footer.