Our High School enters a new phase
Since it opened in 2013, our Subsidised High School has achieved remarkable results. Despite having a non-selective intake from a desperately poor region, our students have consistently beaten national and regional averages in the 10th Standard (Matriculation) Examination. We now have a remarkable 106 students in University or Vocational Training. Most rural High Schools barely get any passes.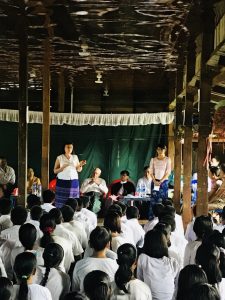 We decided to refresh the school for the 2018-19 year, both in the physical infrastructure, and the teaching staff.  The earliest buildings, our classrooms, had suffered damage during the destructive monsoon seasons, and we completely renewed the walls and entrance.  The hostels where the children sleep needed less attention, as did the library.  We build new toilets and washing areas to higher quality, and rebuilt the kitchen and dining areas.  Finally, we made new paths, a playground, and teacher accommodation.
On the utilities front, we have installed a very robust solar system, and made tanks for collecting drinking water in the rainy season.
We have recruited some excellent new teachers, and feel confident that the school is ready for its second five years.  We were honoured in April to receive U Min Thine, MP for Bogalay Township in which region the school resides.  He praised the school effusively and requested us to increase numbers to 200, but the Headmaster said that to ensure quality, the 130 or so current students were about our capacity.
This year we have a strong majority of girls attending.
On June 2nd the Helping The Burmese Delta founders, May The-Hla and Jon Wilkinson, visited the school to open formally the 2018 – 19 year.  It was a happy day for students, parents, staff and the school committee.
We're very proud of our school.  There are many opportunities to support students both at school and after graduation, so do please contact us at info@helpingtheburmesedelta.org if you're interested.